State of the art facility for your pets
Here at Hidden Gem Pet Lodge near Big Run, PA, we claim your pet as our own! We are a team of dedicated pet care professionals who serve you with custom services for your pet.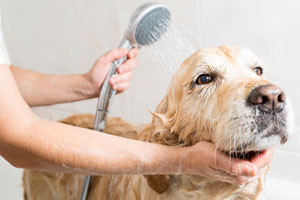 Doggy Day Care
Oh, the fun we will have together! We have separate indoor areas available for small, medium/large and older dogs. Each section opens to a fenced in outside grassy play area where there is constant supervision during play time. Each area has its own Bone Shaped wadding pool or Paw Shaped wadding pool for the dogs to enjoy on warm, sunny days! We will feed, give medications and provide a quiet rest time during their stay.
$20.00/day first dog, $18.00/day each additional dog
Buy 10 days/calendar month $19/day

Buy 20 days/calendar month $18/day
Temperature Control
Each area has heating and AC so the temperature will always be comfortable for your pets. We even have heated floors to ensure no cold paws.
Separate Area for Cats
Our Kitty Korner is totally separate from the other pets. We have private three-story condominiums for your cats to explore during their stay. Individual play time in the Kitty Korner is offered to climb around, use the scratching posts, gaze at the large bird feeder outside the window or the protected fish tank in the room!
Grooming Services
Grooming appointments need to be made with Puptown Grooming at (814) 246-8795. Puptown Grooming Facebook. If your dog enjoys daycare, then a day of play can be included along with their grooming appointment.
$37.00 first dog, $23.00 each additional dog in same room

$15.00 first cat, $11.00 each additional cat in same Kitty Kottage
Lodging guest's all-inclusive benefits include:
Rooms & Safety
We want you to know your pet is comfortable and safe while staying at Hidden Gem. Our private suites have in-floor heating, air conditioning, dimmable lighting, 4×2 insulated/secure electric doggy doors with a battery back up system to ensure even the largest dog can fit through to their own outside covered patio area that has doggy grass for relief! The interior doors into the dog rooms are 9 lite exterior doors for security and visual monitoring. We also offer interior rooms for the occasional escape artist and for any dogs that may prefer that cozy atmosphere. Our suites are of various sizes for multiple family pets to room together if desired. Frequent walks are gladly offered!
Food, Medications, Pillows and a Bath
We highly suggest you bring your pet's food (we will have to charge extra for food if you are unable to provide). If medication administration is part of your pet's day, we will follow your schedule at no extra charge. Each night we offer our guests a freshly baked homemade dog cookie before bed, with pet parents' permission of course! There are three types of beds that are offered: a standard pillow, an orthopedic bed or an anti-anxiety bed. Also, we offer a cozy fleece blanket during every stay. Each option is cleaned and sanitized before each use.
We also offer a complimentary bath before returning home if your pet stays with us longer than three days!
Clean & Sanitized Environment
Our state-of-the-art facility is built to be clean and safe for your pets. Each lodging room has its own ventilation system to help with the prevention of airborne illnesses. We use a Kaivac machine similar to what is used in a hospital to sanitize and clean every room. Our cleaning is also natural to ensure it's non harmful to our guests.
Vet & Emergency Care Services
When your animal is staying with us you can rest assured in the event of any emergency, we are able to access a vet 24 hours a day. If the vet we use is not your normal vet, we will transfer your pet to their vet as soon as possible.
We also want to ensure we help our community. If there is ever an animal involved in an accident, we are able to house the animal in one of our two separate, unattached areas dedicated to helping those in need. We will keep the animal with us in their temperature-controlled area until they are able to be transferred to the vet.